Apple today released a new 15.5 firmware for the Studio Display, with the update coming after a few weeks of beta testing. The Studio Display Firmware improves the performance of the webcam.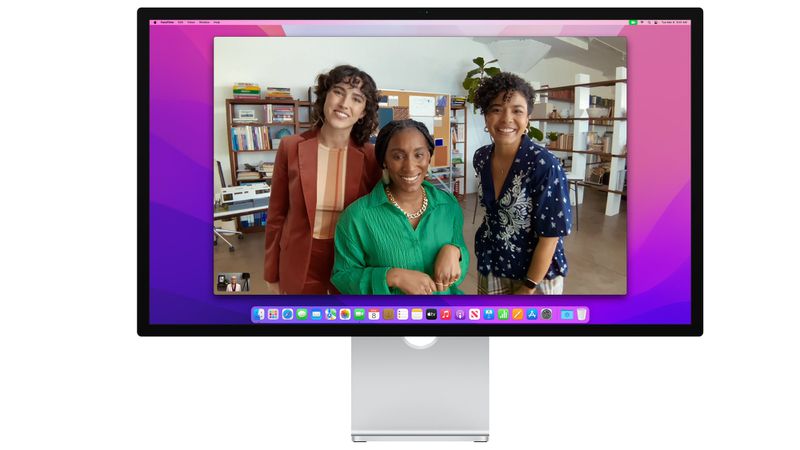 The Studio Display firmware can be updated by connecting it to a Mac running macOS Monterey 12.4, which was also released today. After installing the new Mac software, Studio Display owners can go to System Preferences> Software Update to install the firmware.
Apple has been working on a firmware update for the Studio Display since March, to address complaints about the quality of the webcam.
The Studio Display is equipped with a 12-megapixel Ultra Wide camera that supports Center Stage, but Studio Display reviewers and owners discovered that the camera consistently produces grainy, washed-out images, which Apple has said is the result of the system not behaving as expected.
According to Apple's release notes, the firmware refines camera tuning, offering improved noise reduction, contrast, and framing. We tested out the firmware update when it was in beta, and there is a clear difference in camera quality, mostly as it pertains to the way the framing works.
In addition to better framing, colors are not quite as pale, the contrast has been improved, and the overall look is more vibrant. Skin tones are also better than before, and there is less de-noising for more clarity, but ultimately Studio Display owners should not expect dramatic changes.
Related Stories
Apple Releases Second Studio Display 15.5 Firmware Beta With Webcam Update
Apple today released a second beta version of new 15.5 firmware that's coming to the Studio Display, with the software coming one week after the launch of the first beta. The Studio Display firmware is designed to improve the function of the webcam on the device. All Studio Display models are able to receive over-the-air firmware updates, but this firmware update is limited to Macs that are …
Apple Releases Studio Display 15.5 Firmware Beta With Webcam Fix
Alongside betas of iOS 15.5, iPadOS 15.5, and macOS Monterey 12.4, Apple today released a beta version of new 15.5 firmware designed for the Studio Display. Apple in March promised a firmware fix for the Studio Display to address an issue with the webcam, and according to an Apple spokesperson that spoke to The Verge, the firmware beta released today does indeed fix the webcam problem ….
Here's What the Studio Display's Webcam Looks Like After 15.5 Beta Firmware Update
Apple today released new beta firmware for the Studio Display, which is available to Studio Display users who have the macOS Monterey 12.4 beta installed on their Macs. The updated firmware includes a fix for the webcam, so we thought we'd take a quick look to see the tweaks in action. Subscribe to the MacRumors YouTube channel for more videos. Prior to the launch of the Studio Display, review …
Studio Display Update Issue Fixed as Apple Addresses Code-Signing Issue
Yesterday, MacRumors reported on a growing number of Studio Display owners who were unable to update their display to iOS 15.4, and now, less than a day later, Apple has resolved the issue which originated from the software being unverified by the servers. As highlighted on Twitter and confirmed by MacRumors, iOS 15.4, the latest software update for the Studio Display, had been unsigned by …
Some Studio Display Owners Reporting Issues Updating Display to Latest iOS Firmware
Some owners of the new Studio Display are facing issues when attempting to update Apple's newest monitor to its latest firmware, causing some customers to be told by Apple Support to bring in their display for repair at an Apple Store or authorized repair center. A growing thread on the Apple Support forum (1, 2) includes owners of the Studio Display reporting that as they try to update the …
Apple Seeds macOS Monterey 12.4 Release Candidate to Developers
Apple today seeded the release candidate version of an upcoming macOS Monterey 12.4 update to developers for testing purposes, with the new update coming a week after the release of the fourth macOS Monterey 12.4 beta. Registered developers can download the beta through the Apple Developer Center and after the appropriate profile is installed, betas will be available through the Software …
Apple Studio Display Runs Full Version of iOS 15.4
The Apple Studio Display runs a full version of iOS 15.4, Daring Fireball's John Gruber has highlighted. In System Information, under "Graphics / Displays," the Studio Display's software can be seen, showing that it runs "Version 15.4 (Build 19E241)." This is the exact same build number as iOS 15.4 and iPadOS 15.4, indicating that the Studio Display runs the full version of iOS. The Studio …
Apple Studio Display Software Updates Could Bring New Features
Apple could add new functionality to the Studio Display, the device's update process and hardware suggests. The Studio Display contains an A13 Bionic chip, the same chip from the iPhone 11 lineup, 2020 iPhone SE, ninth-generation iPad, to support its 12-megapixel Ultra Wide front-facing camera with Center Stage and six-speaker sound system with Spatial Audio. The A13 chip is paired with 64GB …
Popular Stories
RIP iPod: A Look Back at Apple's Iconic Music Player Over the Years
Apple earlier this week announced the discontinuation of the iPod touch, and because it was the last iPod still available for purchase, its sunsetting effectively marks the end of the entire iPod lineup. To send the iPod on its way, we thought it would be fun to take a look back at some of the most notable iPod releases over the last 21 years. Original iPod (2001) Introduced in October …
Gurman: iOS 16 to Include New Ways of System Interaction and 'Fresh Apple Apps'
iOS 16 will include new ways of interacting with the system and some "fresh Apple apps," Bloomberg's Mark Gurman has said, offering some more detail on what Apple has in store for the upcoming release of iOS and iPadOS set to be announced in a few weeks at WWDC. In the latest edition of his Power On newsletter, Gurman wrote that while iOS 16 is not likely to introduce a major face-lift to …
Unbox Therapy Shares Hands-On Look at iPhone 14 Pro Max Replica
YouTuber Unbox Therapy has shared a hands-on look at the iPhone 14 Pro Max using what he claims is a one-to-one replica created by third-party case makers with access to detailed schematics and dimensions for Apple's new upcoming flagship smartphone. As with the iPhone 13 Pro lineup, in 2022, we are expecting a 6.1-inch iPhone 14 Pro and a 6.7-inch iPhone 14 Pro Max, but this time the Pro …
Apple Releases iOS 15.5 and iPadOS 15.5 With Wallet and Podcast Updates
Apple today released iOS 15.5 and iPadOS 15.5, the fifth major updates to the iOS and iPadOS 15 operating systems that were initially released in September 2021. iOS and iPadOS 15.5 come a little over two months after the launch of iOS 15.4 and iPadOS 15.4. The iOS 15.5 and iPadOS 15.5 updates can be downloaded for free and the software is available on all eligible over-the-air devices in …
Five Things You Still Can't Do With a MacBook Pro
It's been over 200 days since Apple debuted its redesigned MacBook Pro lineup. Offered in 14-inch and 16-inch display sizes, the new-look MacBooks wowed Apple fans and creative pros alike with their powerful custom Apple silicone, mini-LED screen, and multiple connectivity options. But there are still some things you can't do with a MacBook Pro. Here are five features some Mac users are still …
Apple Launches Limited-Time Bonus Trade-In Credit for iPhone, iPad, Mac, and Apple Watch in Many Countries
Apple has launched a special limited-time offer for iPhone, Apple Watch, Mac, and iPad trade-in that offers customers additional credit when trading in their only device for a new one. The offer is being run in several countries including the US, UK, Germany, Spain, Italy, South Korea, Japan, Taiwan, China, India, and France. In the UK, Apple is offering up to £ 50 of extra trade-in credit …
Kuo: AirPods, MagSafe Battery Pack, and Other Apple Accessories Also to Switch to USB-C in Future
Earlier this week, well-known Apple analyst Ming-Chi Kuo claimed that Apple plans to release at least one iPhone 15 model with a USB-C port in 2023. Now, in a follow-up tweet, he has claimed that accessories like AirPods , the MagSafe Battery Pack, and the Magic Keyboard / Mouse / Trackpad trio would also switch to USB-C in the "foreseeable future." Both the iPhone and all of the aforementioned …
.